Lowering pricing or introducing sales discounts may seem like a guaranteed way to attract attention to and interest in your company, and in many instances, it may be. But while making one, there are many factors to take into account, not to mention potential drawbacks.
For this reason, many store owners today carefully cap the value of their percentage coupons. This is also why, just recently, we updated Advanced Coupons Premium with a new feature that allows you to choose the maximum amount that a percentage coupon discount can be discounted.
In this article, we'll discuss this new Advanced Coupons Premium feature and the advantages of putting a value cap on your percentage discount. We'll also show you how you can easily set this up in your WooCommerce store. Let's get into it!
Why You Should Add A Value Cap To Your Percentage Discounts
Discounts can give the impression that they are a no-brainer strategy for increasing sales or retaining clients. However, without extra caution, discounts may not always be such a great thing.
There are many instances where dropping your prices too low can hurt your profit margin. For example, to maintain your initial profit margin, you would need to boost sales by 67% if you had a 50% gross margin and dropped your pricing by 20%.
The issue is that it's rare for sales to climb enough to fully offset a margin loss of that scale.
A common strategy in planning a sale or a percentage-based discount is staging a value cap. In this manner, you can fully regulate your sales margin without having to lower the value of your coupon discount.
Here are more reasons why you should consider adding a value cap to your coupons:
1. Increased sales volume.
Setting discounts naturally encourages more traffic and sales into your store. However, putting in place a value cap can help you drive even more sales volume to your business since customers will be likely to buy more in order to get the best offer.
2. Make more room for storage.
Of course, you'll be able to free up more storage space as your sales volume rises. By providing discounts and special offers, you may quickly sell the items in your inventory.
But with the inclusion of a value cap, you may potentially increase your storage space in a way that is much more controlled and without the fear of losing profit.
3. Control B2B prices.
If you're conducting B2B transactions, it's only a matter of time before your customers ask for a price quotation (especially if you're providing your prospects with customized solutions). Therefore, the best way to manage and control the discounts you offer is by adding a value cap.
How To Add A Value Cap To Your Percentage Discounts
There are various ways to offer discounts to your customers with WooCommerce. You can choose not to set up an additional plugin in order to provide discount codes. However, the ideal plugin can undoubtedly simplify your work considerably.
That's where Advanced Coupons Premium comes in.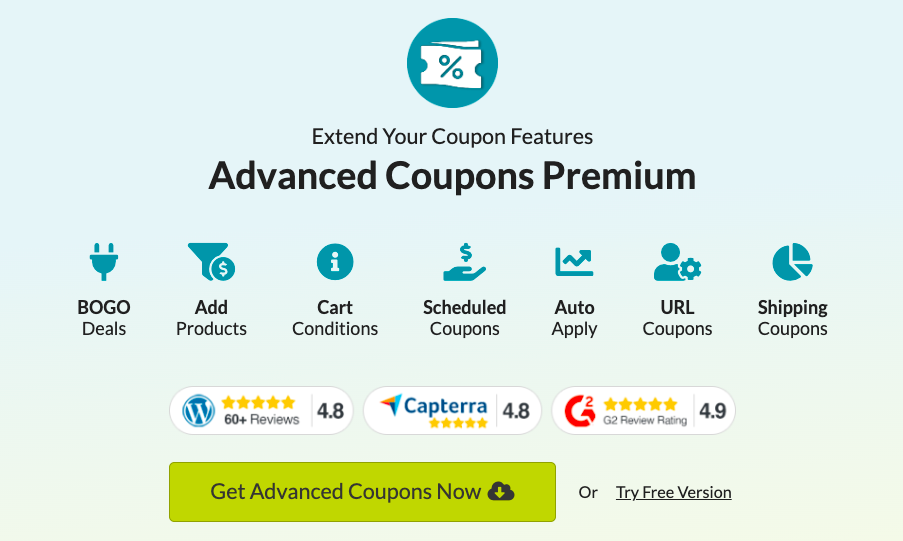 Advanced Coupons Premium takes WooCommerce's coupon system functionality to the next level, allowing you to have precise control over each and every discount in your store.
And just recently, we launched a new feature that allows you to set the cap value of a percentage discount in your store. For instance, if the product costs $300 and a 15% discount with a maximum value of $30 is applied, customers will receive $30 off rather than $45 off.
If you want to get started, here are four easy steps to follow:
Value caps are part of our Premium plugin features, and if you have premium you also unlock a whole range of other great coupon features for your store.
To install it, you can visit our website and select Get Advanced Coupons Now. After choosing your package, you may download the .zip file and go to Plugins > Add New, select Upload at the top, and upload it to your WordPress website. Make sure to click the Activate Plugin option after installation.
Step 2. Create a discount or coupon offer.
After you have your Advanced Coupons plugin configured, the next step is to create a discount offer. You can choose from a number of discount options:
You should, however, select percentage discounts in this case.
Note that you have to enable the use of coupon codes in your dashboard's WooCommerce > Settings > General section before you can proceed:
Once you've enabled discounting, you can now proceed with creating your coupon. You can do this by navigating to Coupons > Add New: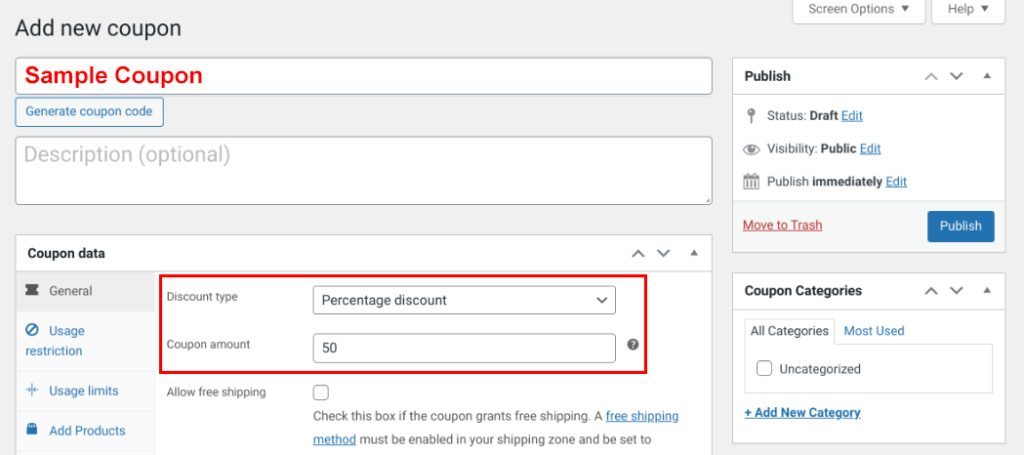 You may give your coupon a name and a description in this tab. Then, choose Percentage discount under Discount type, and enter your desired coupon value.
Step 3: Enter the percentage value cap.
Now that you're all set with your percentage discount, it's time to finally set a value cap!
Simply enter your desired maximum discount amount value next to the Percentage Discount Cap:
So, for example, you set a 20% with a $30 cap. If a product costs $200, then, your customer will receive a $30 discount rather than a $40 one.
Step 4: Save and publish your discounts!
The only thing left to do is save and publish your coupon once you've finished constructing it and setting its restrictions. You can click on the Publish button in the top right-hand corner of the screen.
To have the discount automatically applied when the requirements are satisfied, you may also check the Enable auto-apply for this coupon box on the coupon settings page.
Conclusion
Staging a value cap is a classic approach if you want to regulate your percentage-based discount. In this manner, you gain total control of your sales margin without having to reduce the value of your coupon. Fortunately, you can now do this easily with Advanced Coupons Premium.
With this recently added functionality, you can set the percentage discount's cap value in four easy steps:
Download the Advanced Coupons Premium plugin.
Create a discount or coupon offer.
Enter the percentage value cap.
Save and publish.
Do you have any questions about setting up a percentage cap on your discounts? Let us know in the comments section below!