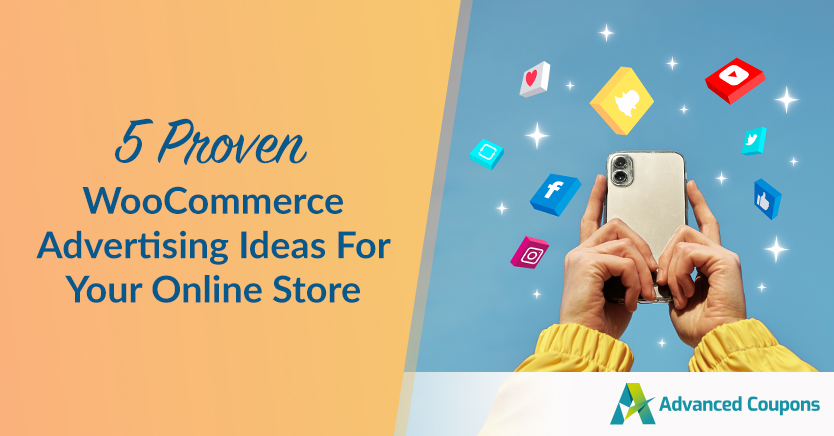 Are you looking for new and creative ways to advertise your online store? 2023 is the perfect time to start trying out some new WooCommerce advertising ideas to reach more customers and increase your visibility. WooCommerce offers many unique features, making it an ideal online store platform.
This article will give you five proven WooCommerce advertising ideas to get your store noticed this 2023. From email campaigns to influencer marketing, these strategies will help you reach more potential customers and boost your profits.
Whether you're a first-time online store owner or an experienced marketer, these WooCommerce advertising ideas will help you make the most of 2023 and get your store to the next level before the end of the year. So, let's get into it one by one!
Benefits Of Advertising Your WooCommerce Store
As an online store owner, you know that advertising is key to gaining new customers and increasing sales. But with so many different ways to advertise, it can be challenging to know where to start.
This 2023, why not try out some proven WooCommerce advertising ideas that can help you maximize your store's potential? Here are some of the benefits of advertising your store, including:
Increased Brand Awareness: Advertising your store will help increase your visibility, allowing more potential customers to find and learn about your business.
Improved Store Traffic: Advertising can help drive more traffic to your store, increasing the chances of potential customers converting into paying customers.
Increased Revenue: Advertising can help improve your revenue by increasing sales.
Improved Customer Loyalty: Advertising can help you build customer relationships, which will help cultivate customer loyalty.
Increased Engagement: Advertising can help you engage with customers and get them involved with your brand.
5 WooCommerce Advertising Ideas For Your Online Store
The world of e-commerce is changing, and with it, so is the advertising that comes with it. Nowadays, many shoppers turn to their digital devices to make purchases instead of visiting physical stores.
With the help of social media, search engine optimization, and other techniques, you can advertise your store even better with the use of the right tools and strategies:
1. Give away holiday-themed gift cards
Gift cards are handy, especially during the holiday season, whether your customers are in a rush or just seeking conventional presents they can give to their loved ones. And as a store owner, now is the ideal moment, more than ever, to capitalize on this profitability!

While WooCommerce does not include gift cards by default, you can quickly add gift card functionality with Advanced Gift Cards! This premium plugin allows you to add gift card products to your WooCommerce store and sell digitally redeemable gift cards.
On top of that, it offers a built-in design or upload option that allows you to give away professionally created gift card templates in-app or effortlessly upload your own design. Isn't this just perfect for holiday-themed promotions?!
2. Take advantage of Email Marketing
Email marketing is a great way to reach your target audience and spread the word about your store. You can use email marketing to send your customers newsletters, promotions, and other updates. This can help keep customers informed and engaged and can also be a great way to generate leads.
Email marketing can also be a great way to build customer relationships. You can use email to tell stories about your store and build brand recognition. This can help you build customer trust and make them more likely to buy from you.
3. Utilize Retargeting Campaigns
If you're serious about marketing your company, you should think about retargeting campaigns as a way to reach new customers and retain existing ones. These advertisements can show people what a product or service is like on a personal level.
They can also highlight features unique to your brand and make them feel more comfortable purchasing.
Retargeting is showing people ads for products or services they've interacted with. It's an effective way to market things like your company's phone number, website, and social media accounts simultaneously.
Although this may initially seem complex, retargeting campaigns can be straightforward. All you need is a thorough understanding of your consumer data, creative targeting, and how your ads will appear on different mobile devices.
4. Launch flash sales
Online flash sales are the best way to promote your brands and products, any time of the year. They let you reach potential customers on an exclusive, first-come, first-served basis. Make sure you have all the information ready so that your online flash sale goes off without a hitch.
If you're worried that having flash deals can be time-consuming, Advanced Coupons has just developed a coupon scheduler function that allows you to pre-schedule the start and end dates of your coupons:
Simply navigate to the Coupon data tab in your WordPress backend, enter the dates, and save. You can also include an error message if someone attempts to redeem the discount outside the flash sale!
5. Leverage customer reviews
Many people will buy a product just because it is on sale or they see it on someone else's shelf. But, what if you could build your store's reputation by creating a culture of reviews for your products?
You see, when other customers write reviews of products they are satisfied with, it shows potential buyers that the seller has good customer service and an effective return policy. That is why it is important to leverage social media and the power of reviews to promote sales in your store.
For example, let's say you sell seasonally-focused merchandise such as sweaters and scarves. You could implement a winter promotion where customers who bought one of your sweaters during the winter period were entered into a drawing for two free sweaters.
Or, you could create a page on Facebook where customers can leave a review of the sweater they just bought, which category it fits into, and whether they received free shipping.
The better your reviews are for your merchandise, the higher your brand visibility and the greater your chance of more people purchasing from you in the future.
Conclusion
If you're running an online store, you know that advertising is crucial to your success. But with so many advertising options out there, it can be overwhelming to figure out which ones will work best for your WooCommerce store.
That's why we've compiled this guide of 5 proven advertising ideas you can implement in 2023 to boost your sales and drive more traffic to your site:
Do you have any questions about WooCommerce advertising ideas? Would you like to add more? Feel free to comment down below! We'd love to hear your thoughts.