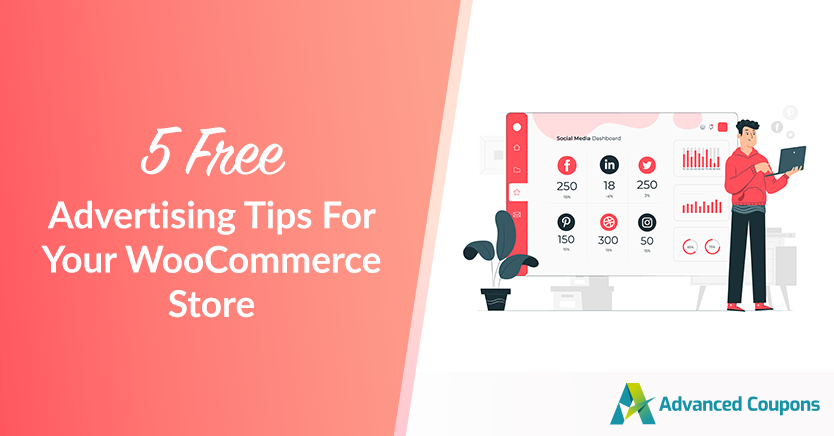 Advertising is essential for an online store owner to build brand awareness and attract new customers. However, advertising can be costly, especially if you are just starting. The good news is that there are numerous free advertising tactics you can use to market your store without spending a dollar.
Are you having trouble driving visitors to your WooCommerce store without breaking the bank? In this article, we'll reveal 5 free advertising techniques to help you boost conversions. So, let's get started!
Free Advertising For Your WooCommerce Store
The world of e-commerce has opened up endless opportunities for emerging businesses, but with a limited marketing budget, attracting new customers can be a challenging task. With established industry giants dominating the market, it can be tough to gain traction and direct traffic to your website.
However, the key to success lies in acquiring new customers while nurturing existing ones, as repeat customers can contribute significantly to your growth.
In fact, research suggests that up to 65% of a business's customers come from existing ones.
So, how can you attract new clients without breaking the bank?
The good news is that there are many free online marketing methods that you can use to promote your e-commerce store. While some may doubt the efficacy of free marketing, it's essential to remember that many successful businesses have relied solely on these methods to build their brands.
Though patience is crucial when utilizing these techniques, it's possible to establish yourself as an industry expert and drive targeted traffic to your website.
Here are some fantastic methods for driving targeted traffic to your e-commerce store:
1. Share valuable information
Sharing content online is an excellent way to establish your presence in different circles, particularly those relevant to your area of expertise.
Creating an online presence in your niche can significantly increase your visibility.
There are various online communities where you can share content related to your business. For instance, you can share it on:
Social media communities
Chat rooms
Online forums
Blogs
Sharing content online can increase engagement and boost your search engine rankings for specific search terms. Likewise, understanding your target audience is crucial to determine which communities and forums are most suitable for interaction.
For example, if you sell clothing, engaging with fashion forums and providing actionable insights that users can derive value from can help establish your credibility as an industry expert.
Consistently delivering high-quality advice that directly addresses the needs of your audience will position you as a guru in your field, eventually redirecting traffic to your online store.
By sharing your expertise and tackling consumer queries, prospective customers will become interested in your brand and consider delving deeper, leading to potential purchases from your store.
2. Content marketing
In today's online world, where an abundance of content is shared across thousands of platforms, content marketing has become incredibly prominent.
This marketing strategy encompasses a wide range of content types, including videos, photos, infographics, blog articles, and more, all designed to appeal to your target audience.
The primary objective of content marketing is to attract visitors to your website.
Here's an example to clarify how it works:
Imagine you sell jackets and Christmas is approaching.
You write an article titled 'Tantalizing Christmas Outfits to Set Things Off in Style,' where you list various garments as inspiration and reference one of your jackets. Within that section, you can use a hyperlink to direct prospective customers to your website.
This way, when someone searches for Christmas outfit ideas, they may come across your article, creating exposure for your business. Additionally, by posting relevant, high-quality content that offers value to your consumer, you can boost your website's ranking in Google for certain search terms.
Note though that while content marketing is a fantastic and free marketing approach, the cost of creating content must be factored into the equation.
Therefore, it's essential to devise a content strategy that caters to your target demographic carefully.
3. Mailing list
Email marketing has stood the test of time, remaining one of the most powerful promotional tools.
If you're not using email marketing, you're missing out on a great opportunity to connect with potential and existing customers.
To get started, the first step is to build your mailing list.
This involves collecting as many email addresses as possible from your website visitors, especially those who haven't made a purchase yet. You can entice them to share their email by offering something in return, such as a coupon code or access to exclusive content or events.
One effective way to do this is by using a plugin like Advanced Coupon, which allows you to create discount codes that customers can use at checkout in exchange for their email addresses.
You can also add sign-up fields at the end of your blog posts, inviting readers to subscribe to your newsletter to receive future content. Once you have your mailing list, it's important to keep it up-to-date and send regular emails to your subscribers.
In your emails, make sure to include a variety of content such as discounts, promotions, relevant blog articles, and more. But, don't make every email about sales and promotions – mix it up with non-product content to keep your subscribers interested and engaged.
Take inspiration from other brands' email marketing campaigns and find your own unique approach to creating relevant and interesting content for your subscribers.
Moreover, there are various email marketing providers available that can help you send and manage your emails. Often, they are at a reasonable monthly fee!
4. Coupon deals
Who doesn't love a good discount?
Offering coupons can be a powerful tool in capturing potential customers and driving loyalty to your brand. The best part? It's easy to implement and track the results of your campaign.
To start building your online brand with coupons, consider adding a coupon section to your online store.
If you're using WordPress to design your website, the WooCommerce plugin is a great option for creating your own store with personalized checkout options. A plugin like Advanced Coupons can also help you customize your coupon section and create specific coupon strategies to attract customers.
Once your coupons are set up, it's time to disseminate them online.
Share your coupons on your website and social media pages. Similarly, you can share them in your email campaigns to entice customers to make a purchase. With the right coupon strategy in place, you can convert potential customers into loyal shoppers and drive sales for your business!
5. Social media
Social media marketing can be a powerful tool to boost your bottom line when done correctly. Your goal should be to turn your customers into brand advocates who share your content and promote your business. But how do you start?
First, choose the platforms that are best suited for your business. If you have a visual product, Instagram might be the right choice for you. If you have limited resources, focus on one platform.
Your social media strategy should be closely aligned with your content strategy. You should aim to post about 20% promotional content and the rest should be interesting and relevant information that appeals to your target audience.
Don't constantly push your offers and promotions on your followers. Instead, entertain and inform them. Engage with your audience by commenting on trending topics and rewarding them for sharing or liking your content. Offer incentives like coupon codes or chances to win prizes.
User Generated Content (UGC) is also a great way to promote your brand on social media. Encourage users to share pictures of themselves using or wearing your product and tag your business. This can create a viral effect that spreads your message to a wider audience.
Conclusion
Looking to boost your WooCommerce store's visibility and attract more customers without spending a fortune on advertising? We've got you covered!
In this article, we provided five effective and practical tips for free advertising that can help increase traffic to your online store and drive sales:
Do you have any questions about this article? Let us know in the comment section below!