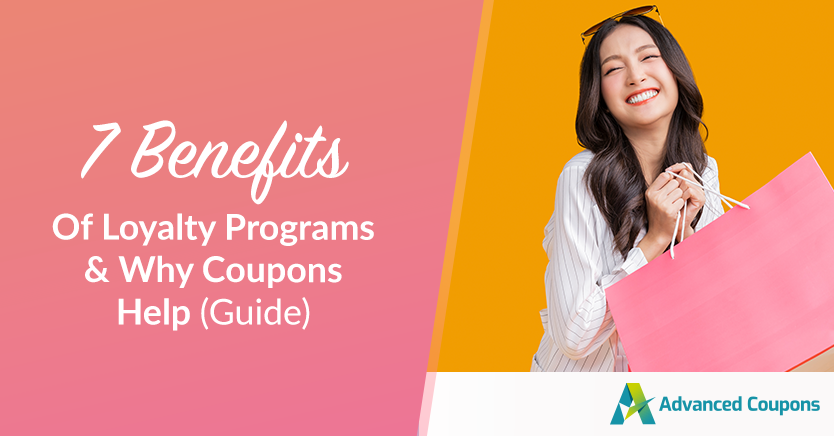 Did you know that customer loyalty programs can help boost your profit by 95%? Every year, corporations in the United States lose an estimated $35.3 billion to preventable consumer churn. As a result, more businesses are putting money into customer loyalty to improve customer relationships.
But truth be told, loyalty programs go beyond discounts and offering sales. There are many ways to reward customers for staying with you, but how do you exactly go about doing it?
Of course, a strategy like this can not be implemented overnight without the right tools and marketing techniques in place. In this article, we'll help you plan for your next steps in boosting your customer loyalty program using coupon marketing.
7 Benefits Of Customer Loyalty Programs
There are many potential upsides of customer loyalty programs – both financial and non-financial.
It is critical for small businesses to have a high customer retention rate because it allows your venture to expand with a lower risk margin.
Think of it this way: because a reliable customer retention program gives you a stable foundation in terms of income, you may now focus on customer acquisition at your own pace.
Here are a few more advantages to loyalty programs for your business:
1. Customer loyalty is rewarded.
About 56% of customers stay loyal to brands that "get them."

The Wise Marketer
Rewards are a terrific way to make your customers feel valued and encourage repeat purchases.
Customers will also feel understood if you give discounts, promotions, and other special deals for supporting you since they get to save bucks.
2. Slow seasons are steadily reduced.
Whether we like it or not, there may be sluggish seasons that can hurt your profitability big time.
A loyalty program may help you boost traffic and sales during these slower seasons by providing customers an incentive to spend.
3. You get to build your mailing lists (and even segment them!)
Email communication is an important marketing strategy to nurture customers and efficiently keep brands salient to them.
Today, nearly 80% of firms still rely on email marketing to keep their customer retention rates high. Likewise, marketers use loyalty programs to gather contact information into mailing lists. Take Sephora's Beauty Insider for example:
4. Customer loyalty programs help drive more sales.
Of course, one of the main reasons for establishing a loyalty program is to ensure a continual flow of income into your enterprise.
Customers may feel more tempted to buy from your business if you frequently provide them with rewards, promotions, and special deals.
As a result, the probability of selling to an existing customer is 60–70%!
5. You can design your metrics.
If you want to sell more, you need to know your customers inside and out. Knowing your customers' purchasing and spending patterns is a great start.
Loyalty programs make it easy to track your customers' purchase habits and develop effective marketing strategies and incentives. Asking clients to enter information like their addresses and birthdays, for example, can help determine which areas and ages to target.
6. More shopping is incentivized.
Customers are typically encouraged to spend more money by brands using multiple tiers for their reward members.
The idea is that if you shop more, you'll be able to save more money. For example, customers can access additional rewards and bonuses when they reach a particular monetary threshold.
7. Your store's traffic is increased; thus, you can find more customers.
While owners often design loyalty programs for existing customers, they can also use them to identify and attract new ones. People may also wish to take advantage of your bargains if they learn about your excellent rewards.
Additionally, over 70% of customers are more likely to recommend a business with a robust loyalty program. This means that you can safely invest in customer acquisition through your retention program.
Why & How Do Coupons Help Customer Loyalty Programs?
Retention often proves a more effective way to grow a business—and customer loyalty is a big part of it. Today, one of the most common methods to get this done is coupon marketing.
Coupons, when used effectively, can increase sales in a short amount of time, improve the shopping experience for customers, and provide for direct tracking of a marketing campaign's ROI.
It can also be used to boost customer loyalty, contrary to what traditional marketers believe.
5 Ways Coupons Can Boost Customer Loyalty Programs
Many marketers, though, face challenges because coupons and freebies aren't the same as they were when our parents tore them from the Sunday newspaper. It can get more complicated than that.
Here are a few ways to help you set up a successful coupon campaign:
1. Make use of a range of coupon platforms.
About 40% of buyers search for digital coupons before going shopping, while 51% seek paper coupons.

Forbes
Lucky for you, you can now use both traditional and digital platforms to expand your reach when it comes to coupon marketing.
There are several platforms where you may launch, promote, and publish your promotions to appeal to your customers; explore your opportunities, figure out what converts best, and be creative.
2. Use limited-time incentives to capture curiosity and create a sense of urgency.
Customers don't want to lose out on an excellent opportunity to buy anything they desire at a reasonable price. This is why introducing limited-time deals and creating a sense of urgency in your customers' minds will help you gain more sales sooner.
In addition, limited-time offers can also spark conversation on social media, enhancing brand awareness and allowing you to reach a wider audience.
3. Create eye-catching coupons that match your brand.
Presentation matters. Creating a unique and visually appealing design for your coupons (that matches your branding) is one way to make your business stand out and gain a competitive edge while keeping your business familiar with the market.
While it's true that the content should be the most essential and well-considered part of your coupon, having an attractive presentation can turn things in your favor.
4. Use technology's versatility to your advantage.
Making coupons accessible, visible, and redeemable is one thing. But taking your coupon game to the next level with the help of modern technology is another.
There are several tools and resources online that leverage your marketing. For example, you can try Advanced Coupons' WooCommerce Loyalty Program plugin:
Advanced Coupons allows you to design and manage a comprehensive coupon system, as well as run a robust loyalty program.
It also gives you the ability to reward clients for doing things other than making purchases on your site. This means that you may utilize the loyalty program not only to increase sales but also to expand your customer base and establish trust.
5. Offer personalized rewards and experiences in customer loyalty programs.
Consumers love to feel loved.
They deserve special treatment and recognition for their brand loyalty.
There are a lot of ways to offer personalized rewards. For example, you can celebrate personal milestones like birthdays, anniversaries, or even the date of their first purchase.
Conclusion
If you're still unsure, think of loyalty programs as holding your ground and building upon it. If you have an excellent repeat incentive, you don't need to fill the hole left by prior customers; instead, you can recruit new customers from there.
To help you get started with your own loyalty program, we outlined some of the benefits of loyalty programs in this article:
Additionally, we walked you through the 5 ways you can use coupon marketing to help boost your WooCommerce loyalty program:
Do you have any questions about loyalty programs? Let us know in the comments!