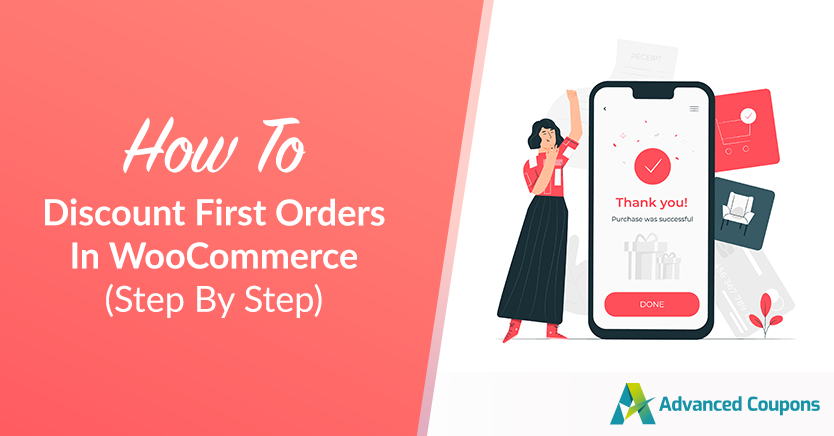 Standing out from your competition to attract more customers is a challenge no matter what kind of e-commerce site you run. The online retail landscape is fierce, especially in the age of giants such as Amazon. That's why learning how to discount first orders is essential.
Offering a discount to first-time customers is a fantastic way to attract new business and start to spread the word about your store. The deal draws in new leads, and then you can make a strong first impression and turn them into loyal fans.
In this article, we'll cover why a first-order discount is a useful tactic. Then we'll walk you through exactly how to set one up in WooCommerce with our Advanced Coupons plugin. Let's dive in!
Why You Should Discount First Orders In WooCommerce
A first-order discount is a type of 'loss leader.'
This is a marketing strategy where retailers take a loss on a product or service in order to attract new customers and stimulate sales.
By offering first-order discounts in your WooCommerce store, you can attract new customers and potentially turn them into loyal, repeat buyers.
While you may lose some initial profit from the discount, the increased sales and customer loyalty can make up for it in the long run.
The key is to provide a deal that entices customers to make their first purchase, and then deliver a great experience that encourages them to come back for more. In this way, you can establish relationships with your customers and build a strong customer base.
How To Discount First Orders In WooCommerce (In 4 Steps)
Discounting the first order in WooCommerce is easy with Advanced Coupons.
You can use Cart Conditions to ensure your discount only applies to first-time orders. Then, you can choose whether to apply the coupon automatically or provide a code for buyers to enter manually.
Note that the cart conditions used in this tutorial require the premium version of Advanced Coupons. Before you start, make sure you have it installed and activated on your site alongside WooCommerce:
Step 1: Create a new coupon
The first thing you'll need to do is head over to your WordPress dashboard and create a new coupon. In the sidebar, select Coupons > Add New.
Next, enter a coupon code (or generate one with the button) and an optional description:
Then, scroll down to the Coupon data section.
Step 2: Configure your coupon
Now it's time to configure your coupon, starting with its discount type and amount.
These settings will be unique to each business and what discount works best for your store. For this example, we'll use 20 percent off the total order.
To set that up, select the general tab under Coupon data. Change the Discount type dropdown to Percentage discount and enter the percentage in the Coupon amount box:
There are lots of other options for customizing your coupon. For instance, WooCommerce includes functionality for setting expiration dates and limiting how many times the discount can be applied.
Additionally, with Advanced Coupons you gain access to many other settings, such as:
Similarly, there are two other options you may want to consider when you discount every first order in WooCommerce. Since the shoppers receiving this deal will be new to your site, it may be helpful to apply the coupon programmatically instead of requiring them to enter a code.
To do this, you can turn on the One Click Apply Notification setting in the Coupon data section. This will display an alert to qualifying customers and enable them to click on a button to accept your discount:
If you'd rather have the coupon apply automatically whenever customers meet the requirements, check the Auto Apply Coupon box on the right-hand side of the screen instead:
When you're finished configuring your coupon, scroll down to the cart conditions section.
Step 3: Set coupon rules to apply only to discount first orders
The next step is to make sure your WooCommerce discount only applies to each customer's first order. You can configure this using Cart Conditions.
Cart Conditions is a feature of Advanced Coupons that lets you specify a wide range of discount rules. Each customer's eligibility will be checked against these conditions before they can apply the corresponding coupon.
You can find the Cart Conditions settings pane in the coupon editor, under the Coupon data section:
To check if it's the first time a customer has purchased from you, you'll want to combine two conditions: Customer Logged In Status and Total Customer Spend.
In the dropdown box, select Customer Logged In Status and click on Add. Then, in the new dropdown that appears, select Guest:
Next, click on Add a New 'OR' Group.
This time, choose Total Customer Spend from the list and click on Add. Several new options will appear. For this purpose, we want to leave them with the default settings, which are:
Condition: Exactly
Total spend: 0
Days offset: 0
However, you could tweak these if you wanted to use this condition for a different type of discount.
Here are the final cart conditions you should have set:
These conditions will check if your customer is either a Guest or has a total spend history of zero. If either of these is true, they will receive the discount.
Click on the Save Cart Conditions button, then click on the Publish button at the top of the editor to make your discount live.
Require customers to be logged in to receive the discount
Now, you may prefer to have the customer log in to receive the discount. This encourages new shoppers to create accounts, which gives you the opportunity to launch more targeted marketing campaigns, track additional sales analytics, and more.
If this case, instead of setting the Customer Logged In Status to Guest, you would select Logged In from the dropdown. You'll also need to change the rule from OR to AND.
Here's what those settings should look like:
This setup will require the customer to be logged in and have a total order history of zero. When you're finished, make sure to click on Save Cart Conditions.
Step 4: Test your coupon
Now your first-time customer discount is ready to go. The only thing left to do is test it and make sure it works. If necessary, create a new account on your site so that you have a spending history of zero.
Then add some items to your cart and go through the checkout process to make sure the coupon applies properly. If you set the coupon to apply automatically or to notify customers when conditions are met, make sure to check for those features as well.
Conclusion
Offering a discount to first-time buyers is an excellent way to attract new customers and grow your brand. Thanks to WooCommerce and Advanced Coupons, it couldn't be easier.
Just follow these four simple steps to set up your first order discount:
Have you had success offering first-time shopper discounts? Let us know in the comments!