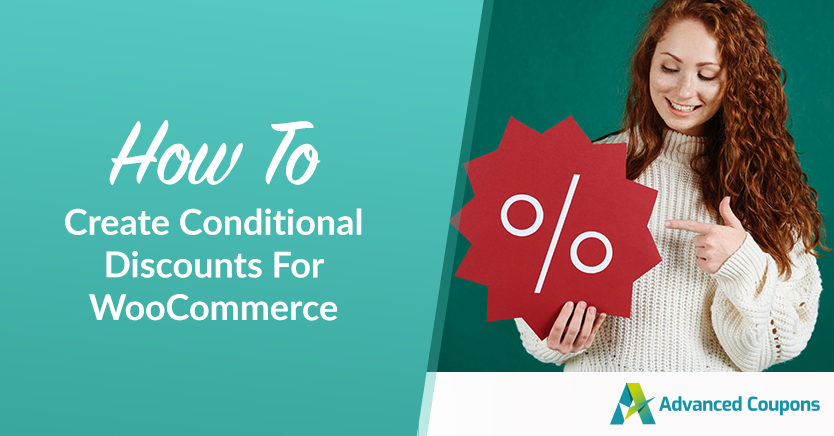 Discounts are great profit boosters, but they come with potential downsides if not managed wisely. While helping your customers save is great, you don't want to go overboard and end up hurting your own bottom line. And that's where conditional discounts for WooCommerce step in.
As a store owner, conditional discounts lets you establish rules and requirements before customers can snag a discount. This way, you can rest easy knowing you're not sacrificing your profits, and you're also targeting the right audience for those discounts.
In this article, we're going to dive deep into conditional discounts and the benefits they bring to your store. Plus, we'll walk you through a straightforward 3-step process to set them up in WooCommerce using Advanced Coupons. So, let's dive right into it!
What Are Conditional Discounts And Why You Need Them
Conditional discounts are a clever pricing strategy where discounts or special offers are granted to a purchase based on specific conditions or criteria being satisfied.
In simpler terms, these discounts kick in only when customers meet particular requirements. Ever come across offers like "50% Off Orders Over $100" or "20% Off All Winter Collection Items"?
Those are great examples of conditional discounts!
So, why should you consider using them?
Well, it boils down to the fact that discounts involve your hard-earned money. You wouldn't want to dole out price cuts to just anyone, right?
Plus, conditional discounts bring several other benefits to your business, including:
1. Clearing out excess inventory.
Conditional discounts can come in handy when you need to clear out surplus or slow-selling inventory. Providing discounts for products nearing their expiration date or for items with limited stock can help prevent waste. It's like giving those leftover items a chance to shine one last time.
2. Encouraging customers to take action.
Conditional discounts are frequently used to motivate customers to take particular actions. For example, you can provide cart-based discounts to newly registered customers. And if you have a nifty coupon plugin at your disposal, you can even dish out discounts based on a customer's login status!
By tailoring your discounts this way, you can deliver targeted offers. In other words, they're not just some random price drop.
This not only helps you sell more but also makes sure the discount feels right for each customer, depending on how they connect with our brand. More importantly, that's how you can keep our customers coming back for more!
3. Improving repeat purchases.
And speaking of customer loyalty, you can also use conditioned discounts to encourage repeat customers. These discounts usually depend on factors like the total amount spent or how many times they've shopped with you before.
And if you're feeling extra generous, you can even give out discounts shortly after a customer's last order or when they've got a habit of shopping items from a particular category.
4. Driving seasonal promotions.
Businesses can also put conditional discounts to great use during special seasons, holidays, or events.
Picture this: when winter's chill starts setting in, offering discounts on cozy winter clothing can make perfect sense. And when the frenzy of Black Friday sales hits, rolling out special promotions can send your revenue soaring during those peak shopping periods.
It's all about timing and catering to what customers are looking for!
5. Recovering abandoned carts.
Last but not the least, conditioned coupons can work wonders in recovering abandoned shopping carts. Imagine this scenario – a customer leaves items in their cart without hitting that "buy" button.
What do you do? Well, offering them a discount can be that gentle nudge they need to come back and seal the deal. It's like saying, "Hey, we noticed you left something behind. Here's a little something to sweeten the deal and get you moving!"
3 Steps To Create Conditional Discounts For WooCommerce
As you can tell, conditional discounts offer a multitude of ways to shape customer behavior, supercharge your sales, and reach a variety of marketing goals.
The key is all in how you configure these conditions to make the magic happen.
If you're eager to offer conditional discounts, Advanced Coupons is your go-to tool for making it happen. With its wide array of flexible cart condition chains, you can set up multiple rules, stacking them on top of each other, to ensure your discounts work seamlessly.
So, let's break it down into three easy steps to set up these conditions:
1. Create a new coupon.
Before diving into creating a conditional discount, the first order of business is defining your offer. So essentially, you've got to decide on the value and specifics of your discount.
To set this up, go to WooCommerce > Coupons > Add New. Then, you'll see several fields you'll need to fill out to set up your Coupon Data:
For instance, you'll need to specify the discount type, usage restrictions, usage limits, schedules, role restrictions, and more.
Then, once you're all set with the offer, you're all set to move on and configure those conditions.
2. Select a cart condition.
In order to create conditional discounts, you'll need to utilize Advanced Coupons' cart condition feature. All you have to do is scroll down and you'll find this section right below the Coupon Data:
Once you click on that dropdown option, you'll discover a treasure trove of cart condition choices at your fingertips. For example, you can establish coupon conditions based on:
Cart Quantity
Cart Subtotal
Total Cart Weight
Product Category Exists In Cart
Custom Taxonomy Exists In Cart
Customer Has Ordered Product Categories Before
Total Customer Spending On A Certain Product Category
Customer Logged In Status
Allowed Customer User Role
Disallowed Customer User Role
Within Hours After Customer Registered
Within Hours After Customer Last Order
Total Customer Spend
Shipping Zone And Region
Number Of Customer Orders
Furthermore, you also have access to two advanced conditions, such as:
Custom User Meta
Custom Cart Item Meta
NOTE: To know more about each condition, check out our ultimate cart condition guide here.
Then, from this point, it's a matter of selecting the cart condition that aligns with the specific conditional discount you want to provide. So, for instance, if you're aiming for something like "$50 Off Orders Over 20 Kg," you'd want to go ahead and pick the "Cart Weight" condition:
3. Configure the selected cart condition.
Once you've selected your specific condition, like "Cart Weight," go ahead and click "Add."
This will open up a new configuration tab where you'll be prompted to define the rules that your customers must meet:
So, in the example discount provided above, "$50 Off For Orders Above 20 Kg," you'd want to set the condition to "MORE THAN" and then input "20" into the Cart Weight field:
Here's a bonus tip:
You can take your discount conditioning to the next level by adding an "OR/IF" condition. Just click on "Add a New 'OR' Group," select the condition, and follow the steps we've covered earlier:
This allows you to stack up conditions, creating a more fine-tuned coupon usage experience.
Once you're satisfied with your coupon setup, hit "Save Cart Condition." Then, you're all ready to click on the "Publish" button!
Conclusion
Conditional discounts help you boost your profit without the worry that anyone can just simply take advantage of your coupon offer. Additionally, it helps your business in numerous ways, such as:
Fortunately, setting up conditional discounts for WooCommerce is easy with Advanced Coupons. And in this article, we discussed 3 easy steps to do so:
Do you have any questions about this article? Let us know in the comments below.