When you first start your WooCommerce store, you probably spent a lot of time on design and development, making sure that every little pixel was in it's place and things were looking perfect.
But after 3 weeks, it probably dawned on you that it's not going to market itself.
Sound familiar?
Marketing is always the biggest part of store ownership and in the rear view mirror it makes the set up part of the story seem insignificant.
And while I can write this last sentence from the comfort of my armchair (even though I do actually run multiple 5-figure-a-month stores) it probably doesn't help you very much.
You might be the guy (or gal) stuck at that frustrating 3-week mark, desperately looking around for tips on what to do to market your store.
I'm hoping I can help you with a small part of that in this article, so read on…
Why Use Coupons As Part Of Your Store Marketing Strategy?
It's likely that in your searches you've heard coupons are a great way to attract and motivate buyers.
The rumours are true. Coupons are a fantastic way to do both of those things.
I've personally used coupons to great effect over the years growing and maintaining multiple sites with 5-figure a month sales revenue. There's so many coupon strategies out there that can help you with growing your store (see this list)
Coupons are a strategy that, when implemented in your store correctly, you can rinse and repeat.
What I like about coupons is that it's a familiar concept to buyers. People have been educated over the years to expect coupons and the use of them triggers a dopamine release in their brains which gets them coming back for more.
When used in a structured way, coupons can both increase your average revenue per customer/user (ARPU) and keep people interested in your products and services.
And guess what? The good news is that with WooCommerce as your store platform, you have options for creating coupon codes with a fair amount of functionality right out of the box. So let's explore what you can do right now.
Types of deals you can do with standard WooCommerce coupons
There's lots of deal types you can do straight away with your new WooCommerce store, and they are:
Store wide % off sales
% discounts off specific products
$ value discounts (off products or store wide)
Basic free shipping offers (enter the coupon, get free shipping)
These are a good start and if you haven't tried any of these yet, you should make it your mission this week to start testing them.
Simple offers like these are great to use in seasonal sales periods as general discounts. They serve as like a gateway for getting people to your site.
The problem with simple deals is the conversion rate on them will be lower than more targeted promotions.
The other issue is with the core functionality in WooCommerce itself. Where it falls short is when you want to do more creative things like:
Add certain conditions to your coupons to ensure that the person redeeming it is allowed to use it (the right user role, logged in vs. guest, cart subtotal is over a certain amount)
Ensure that the right products are actually in the cart AND in the right quantities
Restrict coupon usage to certain user roles
Set start and end dates and show messages when it's outside of those times
Run more interesting deal types than just straight discounts (for example, giving away free product samples or running "Buy One, Get One" style deals, etc)
If you want to do things like this, you'll need a WooCommerce Coupon Code Plugin such as Advanced Coupons.
What A WooCommerce Coupon Code Plugin Does
Here is what the coupon edit screen looks like after you have installed Advanced Coupons.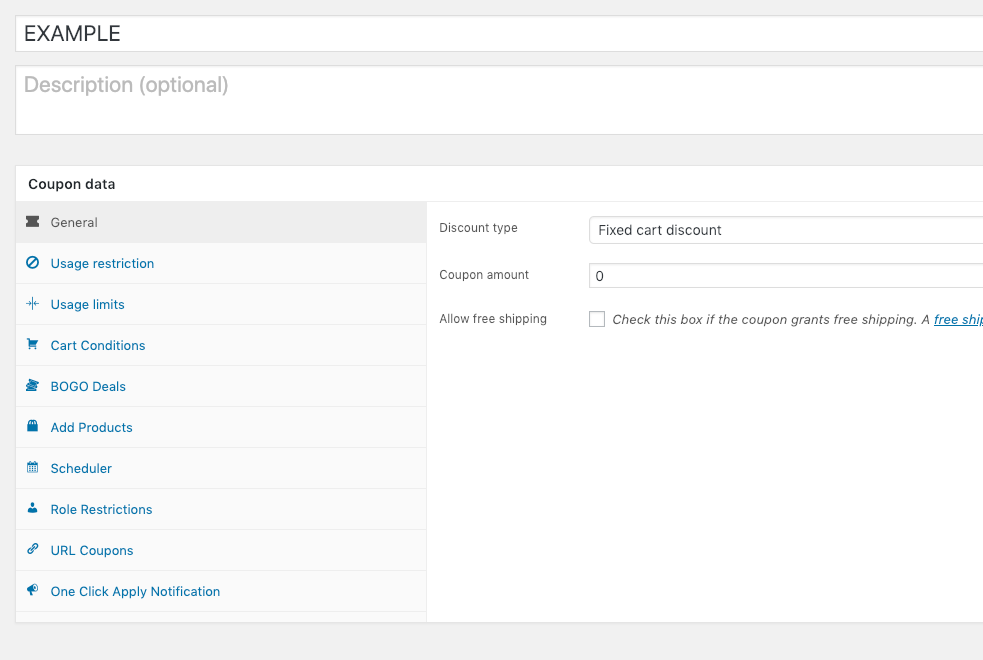 See all the new options there?
You get the following extra capabilities for your store:
Cart Conditions – check the cart, the user and even past orders for certain matching conditions before allowing the coupon to apply
BOGO Deals – Buy One, Get One style deals (customers love these)
Add Products – add products either for free or for a discount when they apply a coupon
Scheduler – set start and end dates for coupon validity
Role Restrictions – restrict a coupon to certain user roles so only the people who should have access to that coupon can apply it (eg. wholesale roles only, guests only or registered customers only)
URL Coupons – apply a coupon by visiting a link (this is great for use in email campaigns)
One Click Apply Notifications – notify users when they are able to redeem a coupon (meaning if they pass the Cart Conditions show a message on the cart with a button to click to apply the coupon)
Automatically Apply – similar to one-click apply notifications only instead of asking them if they want to apply it, once they satisfy the Cart Conditions, it will automatically attempt to apply the coupon
Exclude Coupons – an advanced version of the "Individual Use" setting in core, lets you say which coupons are incompatible with this one so that they can't apply more than one overlapping deal at a time
These features (and probably more by now if you are reading this in the future) are now at your disposal and the amount of types of deals you can create has just exploded exponentially.
Wrapping Up
To conclude, the main benefits, or reasons why you would want to use a WooCommerce coupon code plugin like Advanced Coupons are:
You can enforce rules surrounding the usage of your coupons
You can start being creative by doing things like adding products to the cart when a coupon is applied or using URLs to apply coupons
You can provide your customers with deals that they actually want like BOGO (Buy One, Get One), exclusive discounts to certain groups, discounts based on what they've purchased before and much more
I hope you've been convinced that using a WooCommerce coupon code plugin will be good for your store. For more information and to see the latest list of features, please see the pricing & features page for Advanced Coupons.