Launching a coupon campaign to generate incremental sales is a tried-and-true strategy because it is consistently shown to be a reliable source of revenue growth. Yet despite the many pros, it's not always successful.
For instance, savvy internet consumers today are aware of how to maximize discounts by combining coupons with other offers and cash-back rebates. Some even understand how to save them for their own benefit. For store owners, this can mean a less rewarding transaction.
So, how can you use coupons while still achieving your revenue and profit targets? In this article, we'll walk you through the nine ways to launch a successful coupon campaign. We'll also discuss some of the benefits and risks of coupon marketing. Let's get into it!
What Is A Coupon Campaign?
A coupon campaign uses a variety of incentives to draw in, keep, and reward consumers with a high lifetime value.
While it is frequently used to increase short-term sales, it may also be applied to CRM tactics to provide better customer experiences that are targeted for each step and segment of the marketing funnel, ultimately promoting business growth.
The Benefits And Risks Of A Coupon Campaign
Coupons have already evolved into powerful tools that help with brand creation, customer loyalty, and sales growth. As a result, coupon campaigning has become one of the go-to marketing strategies implemented today.
Let's look at some figures that illustrate how widespread using coupons has become:
Coupon marketing is obviously a significant advantage for business owners, making it a popular strategy to boost sales. In addition to this, providing discounts has a number of other benefits:
1. Improves brand reach and engagement.
Word-of-mouth marketing is one of the most successful business tactics. And an easy way to drive people to talk more about your business is to keep them coming back by giving out coupons or vouchers they will surely love.
2. Easier to monitor success rate.
By providing promo codes, you can easily calculate your return on investment (ROI). This is because you don't need to ask customers how they found your company when they use a coupon code online.
Simply keep track of the total number of coupons redeemed, and you will be able to determine whether you're hitting your sales goals or not.
3. Gives you the chance to up-sell.
Undeniably, coupons can help entice more customers to check out your store. But note that once they're there, there's a high opportunity for you to upsell and cross-sell.
Then again, if a discount campaign is poorly planned, it's likely that you won't be able to make use of these advantages. It is, therefore, imperative to be extra careful of the potential drawbacks of coupon campaigning:
1. Attracting transient clients.
Some coupon clipping enthusiasts will only visit your store for discounted deals. So, if you want to build customer loyalty, make sure to factor in one-time clients who are solely chasing the discount coupons since they won't probably return.
2. An inflow of new customers.
Coupons and coupon codes are frequently criticized for possibly bringing in more customers than your business can handle. Therefore, check that you have the necessary inventory for the discount before distributing a coupon.
3. Training customers to expect savings.
If you utilize coupons as a marketing strategy too regularly, you run the risk of unintentionally teaching your consumers to expect discounts, which could cause them to reject your regularly priced products. Additionally, you might acquire clients that only do business with you during sales.
9 Ways To Launch A Successful Coupon Campaign In WooCommerce:
One entrepreneurial factor that has the power to build or break a company is marketing. You must publicize your brand and product, but it's also essential to do it affordably and effectively. Including coupon campaigns in your marketing strategy is a great way to do this.
Here are nine ways to launch a successful coupon campaign in WooCommerce:
1. Plan the deals you want to offer.
Before you can plan ahead, it's crucial to understand how coupons work first.
Businesses provide coupons to raise the perceived value of their goods in customers' eyes. A product or service's value proposition can be changed in various ways. However, they change the value proposition in proportion to the price.
Store owners can customize their coupon campaigns to achieve specific goals using various forms. You can try, for example, the following:
Percentage Discount – you can offer an X percentage off on a purchase or on their entire cart.
BOGO Deals – here, you can offer bundles where one item is given away for free or at a significant discount while the other is purchased at full price.
Value Coupon – you can also try providing a coupon worth a specific sum of money.
Worth of a specific product – this kind of voucher can be redeemed for a specific item. In other words, it is only useful for that one product.
Whatever kind of coupon you choose, keep in mind the discount that would appeal to your target market. Try experimenting with the types of offers you share because, over time, your customers' preferences may change.
2. Get creative with your promos.
Having a sale promotion prepared is not sufficient to increase sales. To make an impression on your audience, you should also use creativity in your advertising!
Nowadays, it seems like every business is conducting a sales drive of some kind. These promotions, including 30% off and $10 off orders of $60 or more, are so widespread that it's simple to get lost in the crowd.
Thinking creatively outside the box can help design original concepts that will set your sales promotions apart from the competition. For instance, you can try influencer deals, retargeted offers, or holiday and seasonal sales.
Check out the list we put up for extra inspiration to keep your creative juices flowing.
3. Create a customer loyalty program.
Customer loyalty programs can be your secret weapon: 40% of customers are likely to buy again from brands that reward loyalty.

Mention Me's 2021 Customer Advocacy Report
Invesp claims that acquiring a new customer is five times more expensive than retaining an existing one. For small businesses, converting one-time purchases into loyal, repeat customers is extremely important.
Using loyalty programs, therefore, to target existing customers is a turnkey solution if you're interested in making your discount campaign effective.
Here are some significant advantages of having a customer loyalty program:
Customer loyalty is rewarded.
Slow seasons are steadily reduced.
You get to build your mailing lists (and even segment them!)
Helps drive more sales.
You can design your metrics.
More shopping is incentivized.
Your store's traffic is increased; thus, you can find more customers.
But because coupons and freebies aren't what they used to be when our parents tore them out of the Sunday newspaper, many marketers have difficulties with running an effective loyalty program.
Several tools in WooCommerce that can help you leverage your loyalty program. For example, you can try the Advanced Coupons Loyalty Program plugin.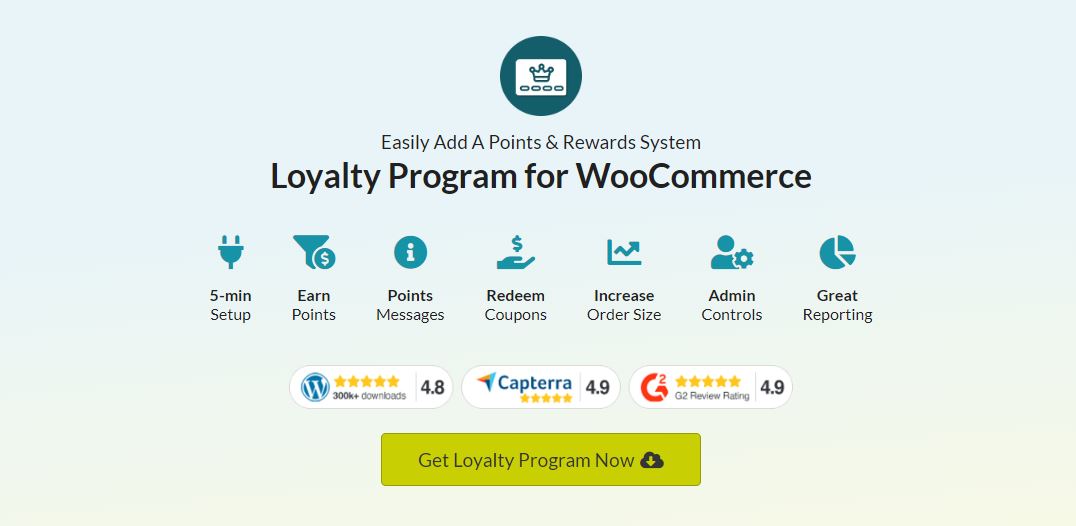 You can create and manage a robust loyalty program and a complete coupon system with Advanced Coupons. It is a premium plugin that enables you to flexibly provide customers with rewards for actions other than purchasing from your website.
4. Use time-limited discounts or flash sales.
Time-limited deal is a promotional offer that is only available for a short period of time, such as free delivery, a discount coupon, or a free gift. It frequently takes the form of popups, banner ads, sales promotions, website banners, and email offers.
Ever seen phrases like "DEAL OF THE DAY," "1 DAY ONLY: 50-75% OFF," or "HURRY! ONLY 3 HOURS LEFT" somewhere? It's all over the board, right?
Time-limited deals or flash sales are commonly used because of their proven effectiveness in boosting coupon redemptions. These have a miraculous ability to convert on-the-fence prospects into customers and one-time customers into repeat customers by utilizing the concepts of scarcity and urgency.
It's not too tricky to set up a time-limited deal; all you need to do is include a countdown timer in your sale announcements, and you're halfway there! However, we strongly recommend Drip's automated features to make the most of your coupon campaign.
5. Offer a lead magnet giveaway.
In marketing, using lead magnets is an excellent way to get a prospect's contact information. They are adaptable and allow you to provide a range of incentives based on the nature of your business and the preferences of your clients.
For instance, members may receive an eBook, access to a webinar, a checklist, a resource guide, or even a film with insider knowledge in return for providing their email address. This not only broadens your mailing list but also makes it easier for you to connect with your customers.
One of the most popular types of lead magnets is the discount offer. Subscribers can receive a voucher in either a percentage or money off of future purchases. According to studies, customers are willing to give their email addresses to businesses 76% of the time in exchange for a discount.

If you have a wholesale store you can check out Wholesale Suite's Lead Capture Plugin for WooCommerce to get started. This makes it simple to configure and alter lead magnet forms for wholesale. Additionally, it has an automatic email notification feature that enables you to send discount offers on auto-pilot!
6. Create attractive promotional visuals.
Unique and convincing content is one thing, but having eye-catching visuals is quite another.
When it comes to marketing, visual content is inherently more fascinating and engaging for users. For instance, tweets with visuals get up to five times more interaction than those without. Visually rich articles are seen 94% more often. The same applies to coupon marketing.
If you're using an email campaign as part of your coupon marketing strategy, graphics can be focused on your consumer segment. A great example of this would be Sephora's email marketing strategy.
Customers who subscribe to the email newsletter receive two versions: one with a special offer if they spend $200 or more, and one without: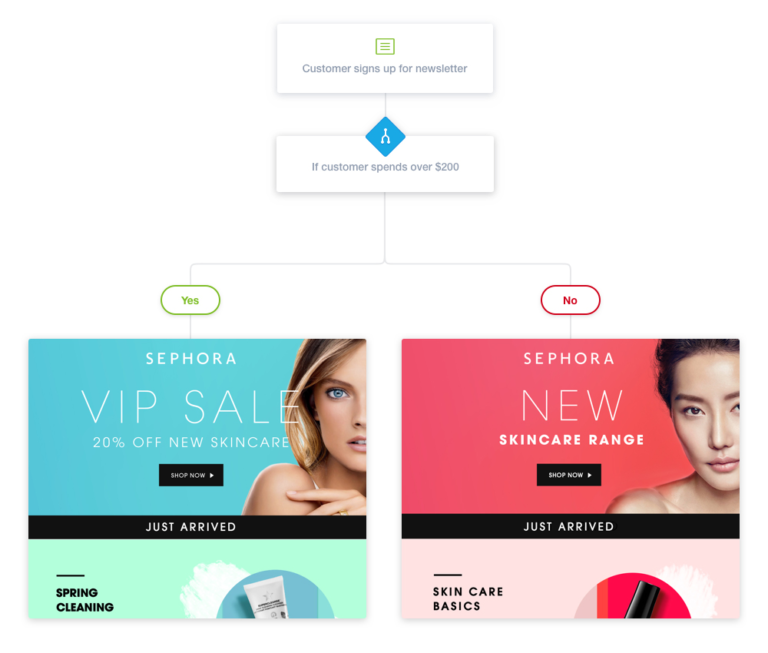 7. Provide store credit options.
If you manage an online store, you'll inevitably encounter customers who wish to return your products. If you don't offer an appealing incentive, these customers could easily turn to your competitors.
You can offer store credit to encourage customers to stay with you. Customers' loyalty to your store may increase if they can use a specific amount toward another purchase. Furthermore, customers could be more inclined to repurchase your products if you have a fair return policy and a loyalty rewards program.
Here are a few typical methods of using store credit:
Returns and exchanges: You can give customers store credit in place of a complete refund for product returns.
Gift cards: Customers can purchase store credit and give it as a gift.
Loyalty rewards: By making more purchases, loyal consumers can earn credit.
In WooCommerce, there are numerous ways to offer store credit. For example, you offer it following an email opt-in. You can also give store credit after the first order. However, adding credits to a user account involves a manual process. It's a good thing that there is a way to automate store credit.
The best thing about offering store credits? The store credit feature is available in the free version of Advanced Coupons!
If you wish to use the automation features we just discussed, you can also easily download Uncanny Automator. This plugin works perfectly with Advanced Coupons, so you don't have to worry about compatibility.
8. Improve your order forms.
Online shopping cart abandonment rates soar up to 70%. In other words, out of every 100 potential consumers, 70 will go away empty-handed.

Baymard Institute
This figure worries many store owners. Although there are numerous strategies for retargeting cart abandonment, one of the primary reasons customers decide not to complete the purchase is the complexity of the checkout process.
Therefore, if you want to optimize your coupon campaign, it's crucial to polish the final phase of your customer's purchasing process: ordering.
We highly recommend the WooCommerce Wholesale Order Form plugin to help you upgrade your store's order form. This premium plugin is a quick and efficient way to offer instant ordering options for your WooCommerce products.
Plus, it has a new drag-and-drop feature that lets you create numerous order forms in various layouts. This provides your order form with complete flexibility for any customization you wish to add to the user interface to improve its functionality and customer-friendliness.
9. Automate your coupons.
Speaking of cart abandonment strategies, you might also want to consider automating your discounts to reduce abandonment rates.
About 90% of online shoppers use coupons. However, while coupons can dramatically increase conversions, they also run the risk of losing customers if buyers have problems using the discount code.
For instance, when prompted with expired promo codes, approximately 46% of them leave their shopping carts empty. Therefore, as a store owner, the coupons you are distributing must fully function to guarantee a successful coupon campaign.
How can you do this? With Advanced Coupons!
You may get more orders and enhance the uptake of your special offers by having WooCommerce automatically apply coupons. Fortunately, using Advanced Coupons makes adding auto-added coupons to WooCommerce simple and straightforward.
Customers will value how automating a discount offer could lessen the hassle and potential pitfalls with coupon codes. You may think of it as "greasing the wheels" of your marketing. Higher conversion rates and sales for your store can result from this.
Conclusion
Implementing discount campaigns is a good place to start if you're looking for strategies to maximize ROI, improve consumer engagement, and increase conversion rates. Coupon campaigns are easy to set up and maintain, and they can help you with all other facets of your promotional marketing approach.
In this article, we showed you 9 ways to launch a successful coupon campaign:
Plan the deals you want to offer.
Get creative with your promos.
Create a customer loyalty program.
Use time-limited discounts or flash sales.
Offer a lead magnet giveaway.
Create attractive promotional visuals.
Provide store credit options.
Improve your order forms.
Automate your coupons.
What is ideal? With the help of Advanced Coupons and Wholesale Suite, all these strategies are simple to put into practice! Please feel free to leave a comment below or contact us if you have any concerns about how to start a successful coupon campaign.