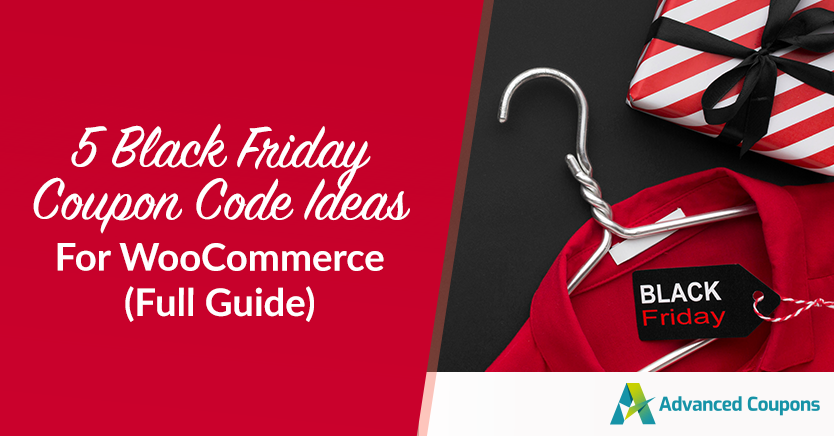 Black Friday offers a prime opportunity to boost traffic, attract customers, and increase profits. Yet, with intense competition in the market around this season, it's important to come up with some creative Black Friday coupon code ideas that will truly help your business shine.
If you're a store owner preparing for Black Friday, you should consider brainstorming some unique coupon code concepts that not only capture your customers' attention but also make it easier to turn them into buyers. Lucky for you, we've got you covered!
In this article, we'll share some of our top coupon code suggestions and guide you on how to implement them to ensure this Black Friday is one to remember. So, let's dive in!
What And When Is Black Friday?
In the world of e-commerce, Black Friday stands out as one of the most hectic and exciting days of the year. This is when stores go all out with discounts, sales, and promotions.
Recently, Black Friday has witnessed a surge in online shopping popularity. Many e-commerce websites kick off their deals and discounts right at midnight, if not earlier. It's a significant day for both retailers and shoppers, offering a prime opportunity to snag great deals on a wide array of products, whether you prefer to shop online or in physical stores.
The exact date of Black Friday varies each year since it's closely tied to Thanksgiving, which falls on the fourth Thursday of November in the United States. Black Friday consistently follows Thanksgiving, which means it can fall on any date between November 23 and November 29, depending on the year.
Why Should You Run A Black Friday Offer?
If you're a business owner eager to give your business a boost before the year ends, Black Friday sales and promotions are your golden ticket.
Not only is Black Friday one of the most bustling shopping days of the year, making it easier to draw in more customers and see a substantial uptick in sales, but it also lets you show your appreciation to your loyal customers and keep them coming back for more.
Here are more reasons why you might consider running a Black Friday Sale:
Got some excess or slow-moving inventory? Black Friday is the perfect time to move it out the door.
Black Friday deals generate excitement and talk about your brand and products.
Hosting a Black Friday sale can enhance your brand's visibility and make your mark in the market.
Black Friday promotions open the door for meaningful interactions with your valued customers.
More importantly, Black Friday serves as the kickoff for the holiday shopping season. When you get in on the action during this season, you can generate momentum that extends to other crucial shopping days, such as Cyber Monday and the entire holiday frenzy.
5 Black Friday Coupon Code Ideas For WooCommerce
Then again, Black Friday is a bustling period for numerous retail store owners. Since it's a time when shoppers are actively seeking fantastic deals, standing out without some creative coupons or discounts can be quite a challenge.
Before we get into the nitty-gritty of setting up and choosing names, here are 4 key factors to consider when naming your coupon codes:
Keep it simple. Try to keep the coupon code short and easy to understand.
Make sure it's relevant. The code should relate to your brand and the promotion you're offering.
Add some creativity: Attract more customers by injecting a bit of humor and wit into your code.
Create a sense of exclusivity: Make customers feel like they need to act quickly by giving your code a sense of urgency or playing on the fear of missing out.
Now that we've got all that checked out, let's delve into the various types of coupons you can use and explore some ideas for coupon code names.
1. Buy One, Get One (BOGO) Deals
BOGO discounts are incredibly effective for motivating customers to make more purchases, clearing out inventory, and delivering added value to customers.
However, there are various types of BOGO offers beyond the traditional Buy One, Get One deal. For example, you can offer a 50% BOGO, which means customers can Buy One item and get the second one at 50% off.
Because of this, it's essential to keep your BOGO coupon code name crystal clear. When brainstorming a name for your coupon code, I recommend opting for the most straightforward and easy-to-understand format. Here are some examples of BOGO coupon codes following this approach:
BOGOBF
BFBOGO50
BOGOBF2023
B2G1HALF
On another note, you've probably noticed that BOGO promotions can be a bit more intricate compared to your typical "50% Off" discounts. Because of this, setting up BOGO coupons on your e-commerce store can become quite a challenge without the right tools.
In this case, I recommend using Advanced Coupons. This plugin takes your standard WooCommerce features to the next level, enabling you to create advanced discount offers like BOGO and more.
All you need to do is install the plugin and access your WordPress dashboard. Then, navigate to Coupons > Add New, and choose "Buy X, Get X" as the discount type: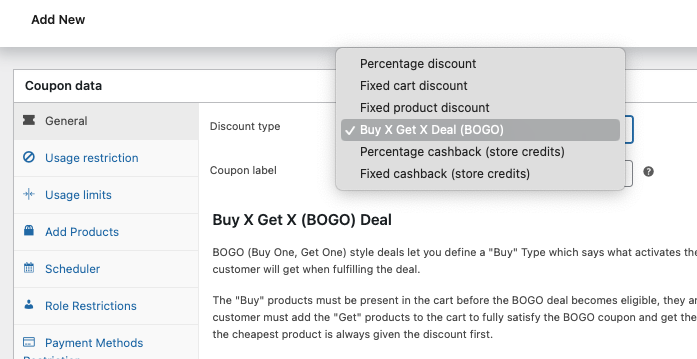 Here, you will see 2 main sections:
"Customer Buys" – In this section, you define which products a customer needs to add to their cart to qualify for the "Get" portion of the BOGO deal.
"Customer Gets" – After the customer has met the requirements in the "Buy" section, this is where you specify the discounts or deals they'll receive on particular products in their cart.
Once you've configured these settings to your liking, simply click the "Publish" button.
2. Early Bird Offers
It's not surprising that Early Bird Offers can be highly effective in generating early sales profits.
They not only expand your exposure and reach, thanks to the longer sale duration but also make customers feel like they're receiving an exclusive deal.
If you're considering creating your own pre-sale promotion, here are some catchy early bird coupon code name ideas to get your creativity flowing:
SNEAKPEEKBF
EARLYBF50
BEATTHECROWD
BFEARLYACCESS
EARLYBF2023
FIRSTDIBS50OFF
So, how can you set this up? Let's say Black Friday is on November 23rd. You can consider launching an Early Bird offer around the second week of November. Or you can even consider as early as November 1st if you're feeling ambitious!
Say you're planning a 60% Black Friday Sale on November 23: you can add some excitement and urgency by offering a 50% Pre-Sale or Early Bird Discount from November 16 to November 22. This approach not only motivates customers but also boosts sales in the lead-up to Black Friday.
PRO TIP: To streamline your sales and prevent the need for manual monitoring, consider using a sale scheduler tool. This will help you set up your sale coupon schedules in advance, ensuring that your sales run seamlessly and on time.
3. Shipping Deals
Nothing beats classic, right?
When creating sales offers, it's important to strike a balance between making them engaging and easy for your customers to understand. Simplicity can be incredibly effective. So, one excellent way to do this is by offering free shipping to your customers.
Some free shipping coupon code ideas to consider:
BFSHIP4FREE
SHIP2MEBF
BFFREIGHTFREE
SHIPPINGJOYBF
BLACKFRISHIP
Then, again, a plain free shipping offer may not cut it. In this case, you can explore different criteria for applying free shipping to the cart. This adds a new layer of appeal to a classic tactic. Here are some examples:
FREESHIPPING50KG – cart weight condition
BFTECHFREESHIP – for specific categories
WELCOME2SHIP – for new customers
If this sounds interesting, Advanced Coupons provides 15+ cart condition options you can set to make your discount more interesting: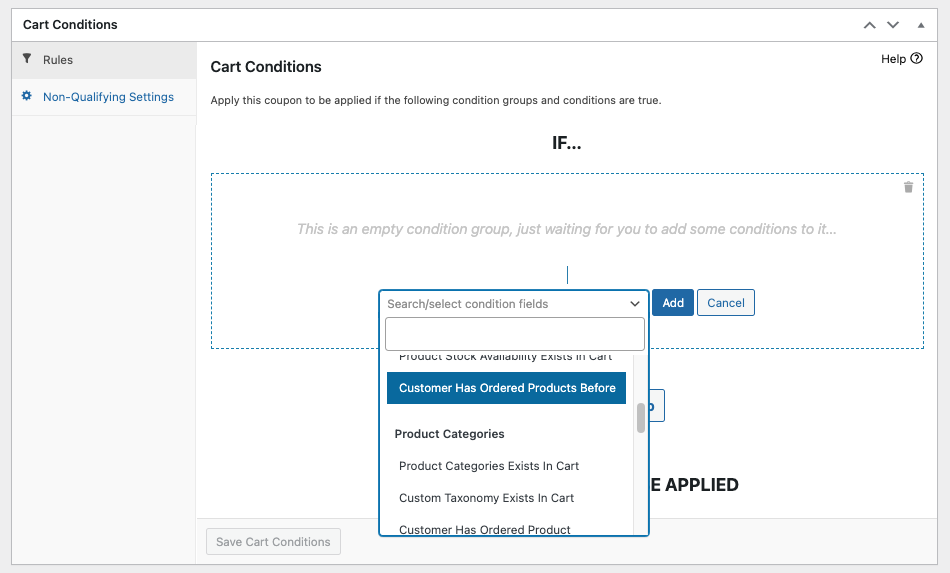 Note that you can also layer these conditions on top of each other to create a more dynamic coupon rule. This makes your discount redemption process more interesting and tailored to specific customer needs.
4. Bundle Discounts
First things first: bundle discounts ARE NOT BOGO offers. While it may seem like it, they vary in terms of how they set up discounts and the criteria customers must meet to qualify.
To illustrate, take a look at this example:
Bundle Discounts:
Involve buying a particular combination of items or a set of products together as a package.
The pricing is fixed, and customers pay a set price for the entire bundle. This is usually lower than the total cost of the individual products combined.
For example, you might see an offer like "purchase a phone and a case together for $650."
BOGO (Buy One, Get One) Deals:
BOGO deals offer a free or discounted item when the customer buys a specific item at its full price.
These deals require the purchase of one item to qualify. This is for getting another item for free or at a reduced price.
An example of this would be "buy one cologne and receive the second one for free."
In simpler terms, bundle discounts mean selling multiple items together at a lower, fixed price.
If you're thinking about running a Black Friday promotion, here are some imaginative coupon code suggestions for you to consider:
[PRODUCT]+BLACKFRIFUN
FRIDAY[PRODUCT]BUNDLE
FRIDAYFEREVER+[PRODUCT]
BFSAVE+[PRODUCT]
5. Cashback Rewards
Have you ever come across the idea of shopping and actually getting cash in return? That's precisely how cashback works.
Cashback rewards are a kind of incentive where customers receive a portion of the money they spend on their purchases as a reward. If this is something you're considering offering, here are some catchy coupon name ideas to make your deals stand out:
FRIDAYFLAREBACK
SAVEBIGBF50
BACK2U100
BFGIFT100
REWARDMEBF15
Cashback rewards can be highly effective for Black Friday, and here's why:
They motivate customers to shop more in order to earn greater rewards.
Cashback rewards add extra value to the overall savings, making the shopping more appealing.
They provide a competitive edge, giving customers a reason to choose your store this Black Friday.
Some cashbacks may not be instantly redeemable. This extends the shopping period and encourages return visits, boosting sales even after Black Friday itself.
Keep in mind, however, that when it comes to implementing this type of reward system, the default WooCommerce setting may fall short.
Thankfully, Advanced Coupons can handle it seamlessly. All you have to do is go to your Coupon dashboard and click on "Add New." Then, select "Cashback" as the discount type:
From there, you can configure the system to align with your desired cashback setup.
Then, finally, hit the "Publish" button.
Conclusion
Black Friday is drawing in and what better way to make your store stand out than to give customers unique coupon offers? This will not only attract more customers but also help you drive your sales. It will also help you retain more existing customers and nurture loyalty.
To help you plan out your Black Friday offer this year, we listed 5 creative Black Friday coupon code + name ideas you can use to max out your marketing game:
It's worth mentioning that while these unique discounts might not be supported by WooCommerce's standard coupon settings, you can easily configure them using Advanced Coupons.
This plugin offers a user-friendly way to set up these special offers. Moreover, you can explore additional features like URL coupons, loyalty programs, gift cards, and more to add extra excitement to your Black Friday sales event! Check it out now.