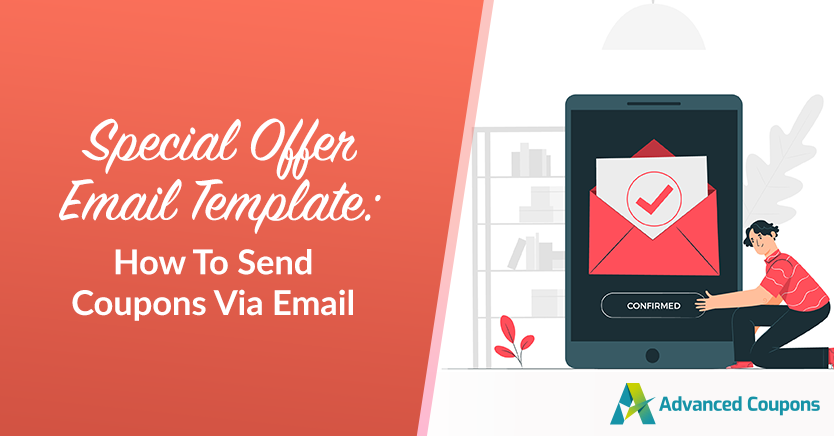 As a store owner, you know that forming a genuine connection with your customers is the key to standing out in a competitive market. One great way to kickstart this connection is by crafting a special offer email template that will keep your customers in the loop about your latest sales and promotions.
By now, you're probably well aware of the magic this can work. It not only makes your customers feel appreciated but also keeps them coming back for more of what you offer. Plus, it's like building a friendship with them, which makes it pretty tough for your competitors to steal them away.
In this article, we'll dig deeper into why special offer email templates are important in the world of marketing. Then, we'll walk you through an easy three-step process to send coupon offers via email in WooCommerce. So, let's dive in and get started!
Why You Need To A Special Offer Email Template
According to a study by Salecycle, 59% of the respondents admitted that marketing emails have played a significant role in influencing their purchasing decisions. Similarly, 50% of people buy from marketing emails at least once per month.
Sending out those special offer emails can work wonders for your business on several fronts.
Firstly, they keep your customers engaged and intrigued by your latest deals. It's like a friendly little nudge, encouraging them to swing by your store, which ultimately translates into higher revenue for you.
As per Statista, email marketing revenue is estimated to reach almost 11 billion by the end of 2023.
However, here's the twist – email marketing isn't what it used to be. There's been a shake-up, especially with Apple's Mail Privacy Protection changes causing a ripple effect. In fact, almost half of all marketers have had to rethink their email performance measurements because of it.
This means that now, more than ever, you need to whip up an exceptional email template that's been carefully thought through. It's not just about aiming for conversions; it's about making sure your emails align with the current emailing standards.
Otherwise, they might end up languishing in the dreaded junk folder!
Tips On Writing A Special Offer Email
Besides keeping things snappy and easy to follow, it's crucial to avoid sounding unprofessional or like those annoying spam emails. So, what does this mean?
Well, basically, it boils down to being crystal clear and straight to the point in your emails. This becomes super important when you're shooting out those special offer notifications. You want your customers to instantly see the value you're offering.
Here are more email writing tips to consider:
1. Personalize your email.
Personalizing your emails is as simple as using the recipient's name. It adds a personal touch to the email, making it feel like it's just for them – which in turn, creates a sense of exclusivity.
This step might sound simple enough, but the impact of addressing your recipients by name can significantly boost your conversion rates. It's not just a hunch; there are some compelling statistics that back up its importance:
Personalized emails can lead to transactional rates that are 6x higher.
Segmented, targeted, and personalized emails generate 58% of all revenue.
Personalized email marketing can churn out a median ROI of 122%.
65% of marketers find that using dynamic content is their most effective personalization tactic.
2. Decide on a straightforward Call-To-Action (CTA).
A clear and direct CTA leaves no room for confusion.
It spells out exactly what you want your audience to do. Without it, you risk leaving your audience in a state of uncertainty, which can lead to them not taking any action at all.
To make your CTA really pop, you might want to think about using a contrasting button color. Also, consider using a clear and action-oriented text, like:
"Shop Now,"
"Get 50% Off,"
"Claim Your Coupon,"
"Click here to redeem"
And last but not least, don't forget about the ideal placement of your CTA.
Ideally, it can be placed near the top or in multiple locations if the email is long. This way, you can make sure that your audience doesn't miss the action you want them to take!
3. Make sure that the email template is mobile-responsive.
Here's a common pitfall many store owners should avoid: neglecting a mobile-friendly email design.
It's incredibly crucial because a large chunk of your recipients will be checking out your emails on their smartphones.
To ensure mobile responsiveness, you might want to go for a single-column layout. Additionally, keep your fonts reasonably sized and ensure that your CTAs and buttons are well-spaced for smooth interaction on mobile devices.
PRO TIP: Always send a test email before you hit that send button for your special offer emails. This step is important for spotting any formatting glitches, typos, or broken links!
How To Send Coupons To Customers In WooCommerce
Now, when it comes to sending these enticing emails, there are plenty of platforms and methods out there. But one of the simplest and most effective ways is to shoot coupons straight to your customers from your WooCommerce dashboard.
This approach lets you customize offers to suit individual customers, ensuring your emails hit the mark. If this piques your interest, then all you need is Advanced Coupons to lead the way:
This premium plugin not only lets you send coupons directly via email, but also lets you create different sorts of discounts that is ideal for your business.
So, assuming you've got this plugin up and running, let's dive into how you can start sending those enticing coupons to your target audience using this nifty tool:
1. Create a new coupon.
The first step, of course, is to create an offer. To do so, head to WooCommerce > Coupons > Add New. Then, you'll see the coupon editor dashboard:
Here, all you have to do is set up the special offer. This means that you'll have to specify the coupon name (or code), discount type, restrictions, limits, schedules, and the like:
Once you've nailed down all those essential details, click "Publish." Then, it's time to scroll back up!
2. Click on the 'Send Coupon' button.
With your offer all squared away, the next steps are easy. Simply give that "Send Coupon" button a click:
Then, you'll then see a handy pop-up that lets you confirm who you want to send the discount to:
As you can see, you now have the option to either send it to a/n:
Existing customer account
New customer (no account)
3. Select the recipient.
Now, all that's left is to configure the email send details.
Let's say you want to send a coupon to an existing customer account. Just select "existing customer account" from the options and enter the customer's email address right below:
Once that's done, you can generate a test by clicking "preview email":
As you can tell, we've crafted this feature to cover the fundamentals of email marketing. The template is concise but impactful. What's even better, the Call to Action (CTA) guides your customers straight to their shopping carts, promising a higher conversion rate for your business!
And most importantly, with this template, you can breathe easy knowing that you won't have to worry about compliance, industry standards, or your email ending up in the spam folder!
So now, finally, once you've put all the finishing touches on your email, hit that "Send Email" button.
Conclusion
Email marketing can indeed be a bit of a puzzle, but its effectiveness has stood the test of time. That's precisely why so many store owners continue to rely on it as a core marketing strategy.
To make the most of this potent tool, it's crucial to become a pro at crafting strategic special offer email templates. Lucky for you, in this article, we shared three tips to create a top-notch special offer template:
Additionally, we also walked you through the easiest way to send coupons via email in WooCommerce. In this tutorial, all you need is Advanced Coupons, and you're all set to follow these easy steps:
Do you have any questions about this article? Then, let us know in the comments!